With close to 3,200 customers using Collections Management today, we often hear the same customer pain points when it comes to collecting. Whether that be your customers exceeding their payment terms, chasing down customer debts or spending too much time chasing that debt, Collections Management can help eliminate these pain points.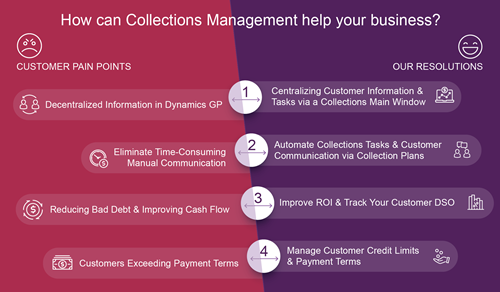 How Can Collections Management Help Your Business?
Here we break down the Top 4 pain points we hear from customers, and how Collections Management can help solve those issues:
Customer Pain Point #1 - Decentralized Information in Great Plains
Once of the biggest problems we see today is companies not having the ability to keep collection history on their customer's in GP. We see users print off aged trial balances, keep posted notes, and even share an excel file amongst their Collection team. The main problem with this, is there is no way to share those notes, conversations or history with other collectors, at least not in GP.
COLLECTIONS MANAGEMENT RESOLUTION
Collections Main Window:

Collections Management first adds value in the Collections Main window. This is the command center for the product, and it's great for ad hoc inquiry. Users can use the main window for tracking and creating notes, setting up follow-up tasks, and creating actions on invoices (such as promise to pay, dispute or special).

Collectors will also have access to what we call the "Collection Task" window, which is essentially your "To Do" list for the collections module.

Collection Notes can also be created from the main window. Our notes have historically been the hub of Collections Management. They allow users to create actions, keep history and notes on customer invoices.
---
Customer Pain Point #2 - Inconsistent Follow-Up
The second pain point we see a lot of customers have is providing consistent follow-up on their customer's past due and upcoming invoices. We see customer's use a lot of manual communication, which can be extremely difficult when you have a large customer base.
COLLECTIONS MANAGEMENT RESOLUTION
Collection Plans:

Collection Plans allow users to spend less time searching for past due customers, manually creating emails, as well as manually attaching invoices.

These plans are a set of steps or workflows that perform a set of actions suggested automatically based on the due date of a customer's invoice.

Users have the ability to use our pre-defined plans setup in the module today or define those plans on their own (from scratch), tailoring those plans to different customer types.

Users will then process these actions suggested by the plans in similar groups, one-by-one, or all at one time.
---
Customer Pain Point #3 – Reducing Bad Debt & Improving Cash Flow
The ultimate struggle with customers today is increased bad debt & a lack of consistent cash flow cash flow. The ultimate goal of Collections Management is to help reduce that bad debt and improve customer cash flow.
COLLECTIONS MANAGEMENT RESOLUTION
Performance Measuring Tools:

In Collections Management, we offer customers a number of different performance reports to help keep track of their collector's collection performance over a period of time. This allows you to compare your collectors work and collection effectiveness.

We also allow you to track your Days Sales Outstanding (DSO) – from both a company and customer level. This allows users to track their DSO over a specific time period, and measure their Return on Investment of Collections Management – the greater your reduce your DSO, the greater your Return on Investment.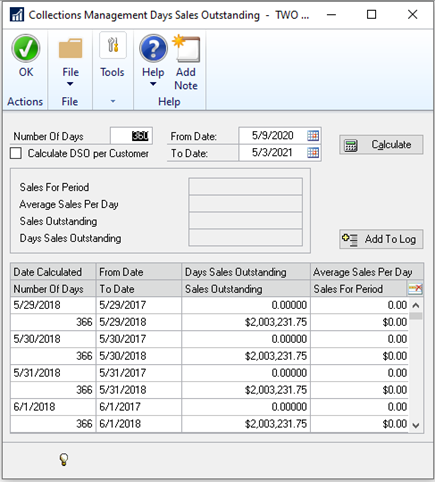 Users can track the follow DSO metrics:
- Sales For a specific time period
- Average sales per day
- Sales outstanding
- Days sales outstanding
---
Pain Point #4 - Customers Exceeding Payment Terms
Another pain point our customers experience is having their customers exceed their payment terms. It's easy to forget what the payment terms are for each individual customer, especially if you have a large customer list. And even if your payment terms remain consistent across your entire customer base, it can be hard to determine which of your customers have already exceed those payment terms.
COLLECTIONS MANAGEMENT RESOLUTION
Displaying Payment Terms & Organizing Action Types:

With Collections Management, we display each individual customer's payment terms right on the Collections Main Window – giving you quick and easy access to review each customer's terms.
On top of being able to easily identify customer's payment terms, users can also easily create follow-up tasks on past due and upcoming invoices, by creating Collection Notes.

Collection Notes give you the ability to create notes from scratch on a specific customer invoice(s). These notes act as "follow-up reminders" to you as the collector, showing up in your Collection Task window, based on a specific action date.

Collectors create these tasks to ensure they send their customer's follow-ups in a timely manner, based on a specific invoice due date and the customer payment terms.

Once the note details are created, users will assign the note to a specific "Action Type". These Action Types are created to help organize your customer's outstanding invoices. By drilling into the Collection Main window "Total Due" hyperlink, collectors can organize their follow-ups based on a specific Action Type: